AFRICAN GOSPEL ART
The Life of Jesus Christ: An African Interpretation by the Mafa People in Cameroun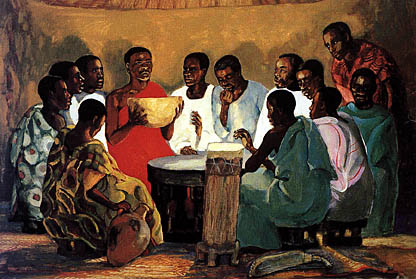 The Lord's Supper
Email John Boer for more information.
These exquisite 60+ multi-color reproductions are set in Mafa country in Cameroon, West Africa. The Mafa people portray the Gospel stories in an African village setting as they imagine them to be from the perspective of their culture in terms of dress, architecture, environment and customs. Artists and photographers have contributed their skills to this production.
These reproductions are used in African educational settings. A percentage of the price you pay for these pictures is used to subsidize them for those who cannot afford the full price in Africa.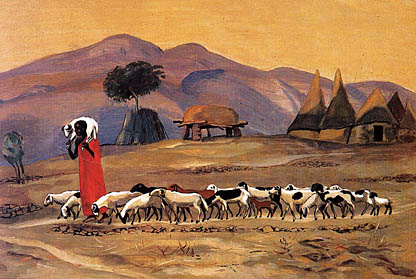 The Good Shepherd
In North America these pictures can serve many purposes:
Sunday school, children or adult
Bible teaching in any setting: school or home
Evangelism
Mission awareness building
General cross-cultural awareness building
Gifts
Notecards and postcards
Greeting cards
Wall decoration
Racial reconciliation
Just plain enjoyment of beautiful pictures, good art, vivid Gospel stories and dynamic African life as it actually is.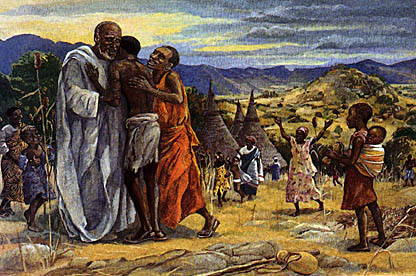 The Prodigal Son
FORMATS
POSTERS
70X100 cm
27 1/2" x 39"
SMALL POSTERS
30x43 cm
11 1/2" x17"
GREETING CARDS
13X18 cm
5" X 7" Including envelopes
POST CARDS
10X15 cm
ALBUM WITH 60 POSTCARDS
3"x 5 7/8"
Set of 3 videos
Email John Boer for more information.
The original publishers seem to have handed over to this address:
http://www.librairie-emmanuel.fr/Recherche-mafa.aspx
For "Vie de Jésus Mafa" please contact "Les Editions de l'Emmanuel"
Due to lack of cooperation from the new party, we no longer have contact with them. You may contact us for items we still have in stock. Tell us which story and format you are interested in. If we're out we encourage you to contact the new owners.
We will continue to advertise this art simply because we want people all over the world to know about it, have access to it and enjoy it. It is simply fantastic.